The best blogging courses for beginner bloggers.
If you're new to blogging and want to get started on the right foot, then you need to find the best blogging courses for beginner bloggers. With so many options out there, it can be tough to know where to start.
Choosing the right course for beginner bloggers is crucial if you want to become successful and make money from your blogging career. In this short guide, I ranked and reviewed the 5 best blogging courses along with my top 3 choices I personally used, so that you can pick the best one for you.
What is a blogging course?
A blogging course is an online or offline educational program that teaches you everything you need to know about blogging, from the basics of setting up a blog to more advanced techniques for growing your audience and monetizing your blog.
Blogging courses can be either free or paid, and they are typically delivered in the form of video lessons, PDF guides, or blog posts. Some courses also come with additional resources, such as access to a private forum or community, 1-on-1 coaching, or exclusive discounts on blogging-related products.
Why should I take a blogging course?
There are many reasons why you might want to consider taking a blogging course. Maybe you're thinking about starting a blog but don't know where to begin. Or maybe you've been blogging for a while but feel like you're stuck in a rut and need some help getting your blog to the next level.
Whatever your reason may be, taking a blogging course can definitely help you reach your goals.
By taking a course, you'll have access to everything you need to learn about blogging, all in one place. And best of all, you can usually access these courses from the comfort of your own home!
How do I choose the right blogging course for me?
There are a few things you should keep in mind when choosing a blogging course. First, think about your goals and what you hope to achieve by taking a course.
Do you want to learn how to start a blog from scratch?
Are you looking for ways to improve your existing blog?
Once you know what you want to get out of the course, you can narrow down your options and choose the best course for your needs.
To help you with that, I chose for you my top 3 picks for the best blogging courses that I personally used myself. I guarantee you – they are worth every penny!
Disclosure:
I'm reader-supported. When you buy through links on my site, I may earn an affiliate commission. It helps me run this blog. You can read my full affiliate disclosure in my privacy policy.
Thank you!

5 Best blogging courses (beginner-friendly).
I've put together a small list of five of the best blogging courses for beginners, so you can learn everything from the basics of setting up a blog to more advanced techniques for growing your audience and monetizing your blog.
I used them myself, and I am truly honored to present them to you today.
These courses are beginner-friendly because they offer:
Step-by-step instructions
High-quality content (including videos)
Affordable prices (split payments)
Whether you're looking for a comprehensive guide to starting a blog or just some tips and tricks to help you improve your existing blog, these courses will have something for you to help get started on your blogging journey today!
Let's take a look at these best blogging courses for beginner bloggers one by one…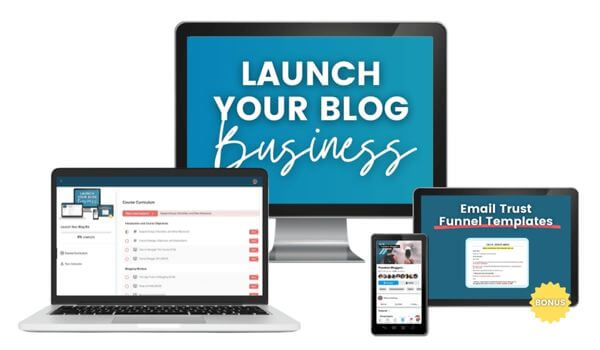 Starting your own blog can seem really overwhelming, but it doesn't have to be.
This blogging course is designed especially for beginner bloggers. It is going to help you start, launch, and grow your own online business to $1,000/month – from scratch!
You will not need any coding skills or tech wizardry, simply follow the instructions. It doesn't have to take you months. You just need to focus on the things that really matter from the beginning of your blogging journey. It's all about taking the right steps at the right time.
The early setup of your blog is everything. You need to build the right foundation and focus on the right things from the start. This beginner-friendly course will help you achieve that with ease.
The creators of this course explain it best – this course is going to help you:
Navigate the ins and outs of WordPress and build your first website in just a month! Name, niche, hosting, tutorials, etc.
Design a simple and professional website in a fraction of the time with a customizable, beginner-friendly theme.
We'll teach you about SEO Articles, YouTube, Podcasting, and more, so you can decide what kind of content is right for you.
Attract the right kind of visitors to your content — that stay, subscribe, and buy from you!
Start building relationships with your audience and build your first email sales funnel!
Ads, sponsored posts, affiliate marketing, and more. Learn how to earn your first $1,000+!
You can get started today with one payment of $297 or two payments of $157 per month…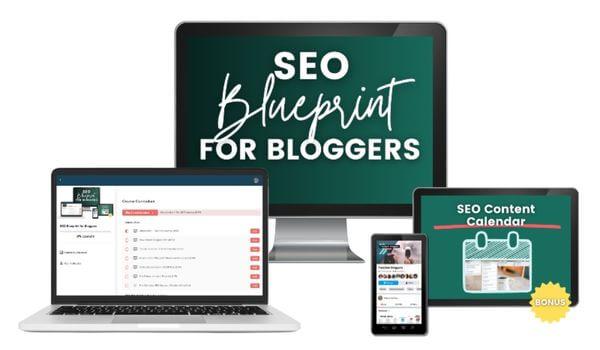 This is the ultimate SEO blueprint for your blog that is going to bring in thousands of visitors!
This blogging course is also designed for beginner bloggers. It is going to help you scale your organic traffic. Because not only SEO may seem hard to understand, but everything you read also seems to be totally different from one "expert" to another…
Most bloggers are only ranking in the search engines because they've been blogging for a pretty long while. The longer they've been on top, the more likely they are to stay there. But thanks to this amazing SEO course, you can start now to invest in your future.
This course is going to help you:
The proper page setup, tags, categories, headings, etc.
You'll learn what content setup you need to focus on and what's important for SEO.
The art of selecting the right keywords which don't have to be hard.
You'll learn how to use a variety of SEO tools to create, analyze, and optimize your posts.

Understand how to find the right people to reach out to, and collaborate with them to build successful connections

.
Learn how to audit and optimize your content to continue to maximize your results.
You can get started today with one payment of $197 or two payments of $107 per month…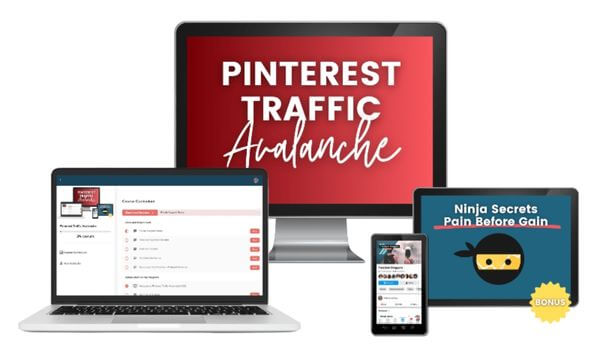 Pinterest is out of this planet and brings amazing results in a short time! I use it myself for all of my blogs.
The creators of this Pinterest course tried to grow organically on traditional channels like Facebook and Instagram but got nowhere. Google SEO takes an average of 8 months before you see any results. Pinterest is different…
Google SEO will give you a lot of consistent organic traffic, but it's also very competitive. Pinterest is a better place to get some initial traffic coming in fast by providing you with a unique opportunity to grow and earn before your search engine optimization for Google kick in.
The creator of this amazing Pinterest course explains how it's going to help you:
Increase your reach in search by optimizing your profile, your content, and more for Pinterest SEO.
Creating great content that stands out from the rest and goes viral!
With designing content for engagement and clicks to your website.
Share recommended pinning strategies + how to automate your Pinterest traffic.
Understand what tools and metrics to pay attention to in order to track your progress and growth.
Learn the best strategies for using Pinterest to grow your email list and get more subscribers.
You can get started today with one payment of $197 or two payments of $107 per month…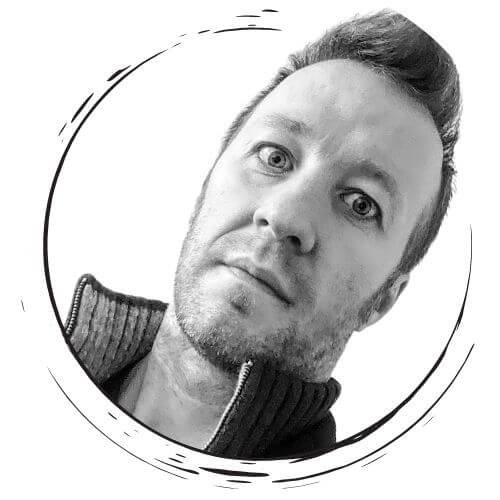 Przemo Bania is a blogger and writer who helps people get out of their traditional jobs to start a blogging career. Przemo also runs a health blog advocating for endometriosis and fibromyalgia…